100 Years Later -
Dawn, 100 years later, in a place which we now call home, the sun rose, just as it did in 1915.
Today all across Australia and the World, people commemorated the day that Australia and New Zealand became a Nation. The day when we remember the thousands who gave their life in firstly the islands of the South Pacific, then the hills and gullies of Gallipoli, and onto the battles on the Western Front in Europe and then the hot dry lands of Egypt.
An ABC of their heroics
Adversity
Bravery
Courage
Determination
Energy
Fight
Gassed
Heroics
Injured
Killed
Landings
Maimed
No Mans Land
Orders
Praised
Queenslanders
Respect
Shellings
Torn apart
Unselfish
Victory
Willingness
X-ray
Young
Zeppelin
We joined 10,000 others in a brilliant autumn sunshine, and remembered them. There was even a 9th Re-inactment group really well done
A fantastic effort from a rather small town and it was a privilege to honour not only Monty but all those other brave Durnford cousins who have featured in these stories.
*******************************
Gallipoli was not only an Australian or New Zealand event, it was the beginning of a Theatre of War.
The number of people involved was staggering. 140,000 lost their life in one small peninsula.
It is therefore fitting that the Whole of the World Community Pause to Remember Them.
"They did their duty; now, let us do ours. They gave us an example; now, let us be worthy of it. They were as good as they could be in their time; now, let us be as good as we can be in ours.
"Like every generation since, we are here on Gallipoli because we believe the Anzacs represented Australians at their best.
"Because they rose to their challenges, we believe it is a little easier for us to rise to ours. Their example helps us to be better than we would otherwise be."
Prince Charles brought tears to the eyes of some crowd members with his strong reading of a diary entry of Company Quartermaster Sergeant Benjamin Leane, of the 10th Battalion, written to his wife on the night of the landing.
"In case the worst happens and I am unable to make any more entries I will take this opportunity to bid you goodbye, dear girl," Prince Charles read.
"I trust that I will come through all right, but it is impossible to say and I must do my duty whatever it is. But if I am to die, know that I died loving you with my whole heart and soul, dearest wife that a man ever had. Kiss little Gwen and our new baby, who perhaps I may never see, and never let them forget Daddy."
Australia's Defence Force Chief, Air Marshall Mark Binskin, was the first to address the crowd.
"One hundred years ago today, the quiet stillness of dawn and the gentle sound of the waves on this beach gave way to the flash and roar of gunfire over the painful cries of the wounded," he said.
"For so many, the rising sun that day would be their last."
***********************************************************************
One of those was Trooper Wilson. His family were searching for answers. They were advised he was dead, then they were told he was arriving back to Melbourne, and to meet a ship.
What a horrible experience. Trooper Wilson was dead, the trooper Wilson arriving in Melbourne was not their relative.
Just one more casualty of a very confused series of events that marked the loss of thousands.


Gallipoli 2015: Soldier almost left behind during Anzac Cove retreat, digger reveals in private recording of final days of war

By

John Taylor



Photo:

Before the war: 5th Light Horse Regiment, B squadron, C troop at Brisbane's Enoggera Barracks. Dave Clark is third from the left in the back row. (Supplied: Beryl Holmes)
A fascinating interview with a Gallipoli veteran has been made public, detailing how a soldier was nearly left behind during the famous evacuation in December 1915.
In 1981, former Light Horse Trooper Dave Clark sat down with his daughter Beryl Holmes and a tape recorder.
Mrs Holmes has only now decided to make the private interview public.
"I had an uncle who kept saying to me, 'Have you ever talked to your father about the war?'" she said.
"When I interviewed him then he just came out with it because I was fairly professional."
Media player: "Space" to play, "M" to mute, "left" and "right" to seek.
In a wide-ranging discussion with her father, they discussed his war experience in Egypt, the Middle East and Gallipoli.
Mr Clark arrived on the Turkish peninsula a month after the campaign began and stayed until the end.
"Did they have much trouble keeping up morale?" Mrs Holmes asked during the interview.
"They didn't have any trouble at all," he replied.
"That is the thing that would be amazing to most people today - that when you think that there were the hard conditions you had to put up with."
'Sneaking away and leaving mates behind'
Then 24 years old, Mr Clark was among the very last men to leave Gallipoli during the historic evacuation.
His best friend Sam Smith was killed and buried at Gallipoli.
Mr Clark said despite the enormous danger, one supper before they left a friend admitted he found it hard to consider leaving.
"He says, 'There's one bloody thing I don't like - this sneaking away and leaving our mates behind.' Well, I've never forgotten those words," he said.
Mr Clark left his position to board a boat in socks donated to him by a South Australian grandmother, but he wore them on the outside of his boots.
"It was that big it would be absolutely impossible to wear on your feet," he said, laughing.
"And it was warm and when you walked along you didn't make any damn noise at all."
The veteran told a tale of how as the final boats were preparing to leave an officer realised something was wrong.
"They were going round counting. Going round counting, and I said, 'Wonder what the bloody hell's wrong?', he said, "We're one ... one man missing."
An official history of the Fifth Light Horse published in 1927 backs Mr Clark's recollection, and confirms that a man named Trooper Murray had been left at his post.
"And there he was. He stood on that damn trench, all on his own - none to the left, none to the right," Mr Clark said.
"He was there on his own probably for nearly 10 minutes."
Media player: "Space" to play, "M" to mute, "left" and "right" to seek.
He was retrieved by two of his mates.
As they all safely sailed away, Mr Clark told of when a time-delayed bomb exploded near the Turkish trenches.
"There was a scene that was probably never happened before in warfare and can never, never happen again, because ... when we let this blast over and they thought we was going to attack," he said.
"There wasn't one man left on Gallipoli, yet they were pounding all these trenches, all our trenches everywhere with shells.
"They were machine guns flashing, there was bombs going off, there was big flares going up in the sky to make this thing light to see what was happening in front of them.
"Even their artillery was firing - everything you could think of - that was going on bashing into all our empty trenches.
"There's no doubt about it, if you could [imagine] anything like that - yes, we were sneaking away."
Mrs Holmes said she remained very proud of her father's place in history and the recordings she made.
"I think our war history in Australia is a little overdone," she said.
"The land settlement of Australia is a much more interesting story than the war history of Australia, but we talk on and on about war - like it was Australia's only history.
"So I think we need to get a perspective about ... our history as Australians. But if we're going to concentrate on that little bit, I'm pleased to be there."
Mr Clark became a soldier settler at Dorrigo in northern New South Wales and had 10 children.
He died in 1990 at the age of 98.
********************************************************************************
From the 9th Battalion Site
*****************************************************************
Musical instruments played in Gallipoli trenches restored by Australian War Memorial ahead of Anzac centenary
Instruments played by Australian troops in the trenches at Gallipoli are now being heard again for the first time in 100 years.
Bugles, horns and whistles used on the battlefields have been carefully restored at the Australian War Memorial (AWM) in Canberra ahead of the centenary of the landing of the Anzacs at Gallipoli.
Until very recently, it ran against museum practice to use historic items like instruments for their original purpose.
The preference was to store or display such items without ever playing them.
But that is no longer the case.
"I think these sounds deserve to be played," AWM curator Chris Goddard said.
"People deserve to hear them," he said, "it can be really chilling to hear these sounds and know the context".
A free concert at the High Court in Canberra on April 12 will bring together several instruments that were played in the trenches and have rarely, if ever, been heard since.
The concert will feature music composed and played at Gallipoli, as well as the instruments that played it.
Anzac Centenary cultural fund fellow Chris Latham has dedicated years to scouring diaries, letters and other first-hand accounts of Gallipoli to discover what role music played at the iconic battleground.
'A place where music didn't exist'
Gallipoli was believed to be too grim for music to exist.
Unlike on the Western Front, where soldiers could sometimes retreat from the frontline to nearby towns to drink and hear music, Gallipoli offered no such solace.
"Music sustains the human spirit in a really fundamental way throughout these experiences," Mr Latham said.
"Gallipoli had been described as a place with no music."
There were records of gramophones being played at Gallipoli, but only recently did Mr Latham discover the identity behind the tale of a trumpeter whose music rang out over the trenches.
Sergeant Ted McMahon played a cornet to soothe the spirits of fellow diggers, placing a handkerchief inside the bell of the horn to muffle its sound.
The night before the Battle of the Nek in August 1915, Sergeant McMahon played a popular tune called Rosary.
Sergeant McMahon's step-granddaughter Kerry Everett has loaned his silver cornet for the Gallipoli-themed concert. The well-made horn has been put through its paces by Sydney Symphony Orchestra trumpeter Paul Goodchild.
Mr Goodchild said playing an instrument that was played in the trenches at Gallipoli was an emotional experience. "It's like having a game of cricket with Don Bradman's bat," he said.
"It's just the most gorgeous instrument and it's an absolute privilege to play it," he said.
A clear call to arms
Together with the barrage of artillery and gunfire, the sounds of bugles and whistles playing were part of the everyday cacophony of war at Gallipoli. Bugles were essential to order on the battlefield.
Many Australians are familiar with the brass horns as the instruments used to play solemn tunes of reflection like The Last Post and Reveille.
But they were also functional tools of battle, issuing orders that could be heard above the din of artillery and gunfire.Australian Defence Force Academy (ADFA) bandmaster Graeme Reynolds, who is also an Army bugler, has been called upon to play bugles from Gallipoli.
"In modern war we have radio, radar, satellite - but back in those days the bugle was the instrument of war. Primarily tasked with relaying messages to different sections on the battlefield; to lay down heavy fire, to charge, to do a number of different things.
"They would have relayed that sound from trench to trench just in the event that they couldn't hear them over the gunfire." An even more prosaic instrument of war was the trench whistle - used by commanders to order their men into battle.
Some officers purchased their own whistles with distinctive sounds to make sure their commands were heard and understood by the troops. The AWM's Mr Goddard said a range of such whistles is part of the memorial's collection.
"These whistles, because they're associated with mass attacks and mass slaughter are really one of the defining objects of the First World War," Mr Goddard said. In the collection is the silver whistle used to launch the attack on Lone Pine in August 1915.
Brigade major Dennis Malcolm King blasted the police-style whistle three times to signal the start of the offensive. The Turks suffered more than 6,000 casualties, while more than 2,000 Australian died in the battle.
The Australian War Memorial replied to my request for information about Monty's bugle. They don't hold it, and only accept items from known sources, so buried somewhere in the sands are at least two bugles.
***********************************************************************************
The last of six Victoria Crosses "won before breakfast" by the Lancashire Fusiliers during the Gallipoli landings has been reunited with the other five.
The Fusilier Museum in Bury was searching for the medal for a centenary exhibition to start on 25 April.
It owned two, was loaned three and has now been handed the remaining VC, won by Maj Cuthbert Bromley, which was last heard of in the 1980s.
Maj Bromley's nephew Nick presented the medal to the museum.
The Six VCs Before Breakfast exhibition will be the highlight of the museum's special programme over the weekend of 25-26 April - the first time the VCs have been displayed in one place.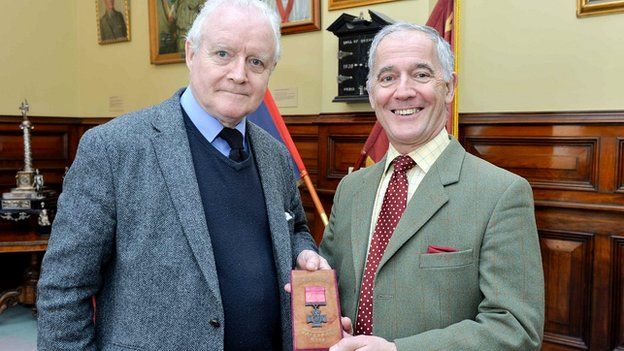 Staff traced Maj Bromley's family through genealogical research after first appealing to find the medal in January 2014.
The major, who was temporarily promoted from captain, received Britain's highest award for bravery along with Cpl John Grimshaw, Pte William Keneally, Sgt Alfred Richards, Sgt Frank Stubbs and Capt Richard Willis for their actions when the 1st Battalion Lancashire Fusiliers landed at Gallipoli in Turkey on the morning of 25 April 1915.
The battalion lost more than half of its men as they landed on W Beach, which was later renamed Lancashire Landing.
Maj Bromley was honoured in his local church, St Leonard's, Seaford and had a road named after him in the East Sussex town.
Eighteen men from the Lancashire regiment were awarded the VC during World War One.
All six medals will be displayed until 16 May.
POWERFUL ANZAC TRIBUTE STANDING GUARD OVER SYDNEY.
If that image doesn't give you the chills, then you may want to pinch yourself to make sure you're still alive. This incredibly fitting tribute to all our serving armed forces standing guard over Sydney is something for every Australian to feel proud about; young or old.
Some Gallipoli moments
OR
The wrecks in the Strait - Diving onto the shipwrecks.
And the Band Played Waltzing Matilda:
**************************************************************************
Remembering Monty.
How often did he play The Last Post?
On 25th April 2015, he and the thousands of others who were played a part in that war and all others, will be remembered, at Anzac Day Services across Australia and the World.
Memorial stained glass window, Class of 1934, Royal Military College of Canada showing officer cadet playing the bugle call for the "Last Post" or "The Rouse"
So where ever you may be, take 60 seconds to remember them.