William Longespée, 3rd Earl of Salisbury
(c. 1176 – 7 March 1226) was an English noble, primarily remembered for his command of the English forces at the
Battle of Damme
and for remaining loyal to his half-brother,
King John
. His nickname "Longespée" is generally taken as a reference to his great size and the outsize weapons he wielded.
He was an illegitimate son of
Henry II of England
. His mother was unknown for many years until the discovery of a charter William made that mentions "
Comitissa Ida, mater mea
" (Countess Ida, my mother).
This
Ida de Tosny
, a member of the prominent Tosny (or Toesny) family, married
Roger Bigod, 2nd Earl of Norfolk
King Henry acknowledged William as his son and gave him the
honour
of Appleby,
Lincolnshire
, in 1188. Eight years later, his half brother
Richard I
married him to a great heiress,
Ela of Salisbury, 3rd Countess of Salisbury
.
During the reign of King John, Salisbury was at court on several important ceremonial occasions and held various offices: sheriff of
Wiltshire
; lieutenant of
Gascony
; constable of
Dover
; and
Lord Warden of the Cinque Ports
; and later warden of the
Welsh Marches
.
He was appointed sheriff of Cambridgeshire and Huntingdonshire about 1213.
Military career
He was a commander in the king's Welsh and Irish expeditions of 1210–1212. The king also granted him the honour of Eye in Suffolk.

In 1213, Salisbury led a large fleet to Flanders, where he seized or destroyed a good part of a French invasion fleet anchored at or near Damme. This ended the invasion threat but not the conflicts between England and France
In 1214, Salisbury was sent to help Otto IV of Germany, an English ally, who was invading France. Salisbury commanded the right wing of the army at their disastrous defeat in that year at the Battle of Bouvines, where he was captured.

By the time he returned to England, revolt was brewing amongst the barons. Salisbury was one of the few who remained loyal to John. In the civil war that took place the year after the signing of the Magna Carta,
Salisbury was one of the leaders of the king's army in the south. He was made High Sheriff of Wiltshire again, this time for life.
After raising the siege of Lincoln with William Marshall he was also appointed High Sheriff of Lincolnshire (in addition to his current post as High Sheriff of Somerset) and governor of Lincoln castle.
However, after the French prince Louis (later Louis VIII) landed as an ally of the rebels, Salisbury went over to his side. Presumably, he thought John's cause was lost.
After John's death and the departure of Louis, Salisbury, along with many other barons, joined the cause of John's young son, now Henry III of England. He held an influential place in the government during the king's minority and fought in Gascony to help secure the remaining part of the English continental possessions.
Death
Bizarrely, the well-preserved corpse of a rat which carried traces of arsenic, was found inside his skull The rat is now on display in a case at the Salisbury and South Wiltshire Museum. (Was William poisoned?)
From Salisbury Museum
Salisbury Castle is now known as Old Sarum (
Latin
:
Sorviodunum
) It is the site of the earliest settlement of
Salisbury
in England. The site contains evidence of human habitation as early as 3000 BC. Old Sarum is mentioned in some of the earliest records in the country.
It is located on a hill about two miles north of modern Salisbury next to the A345 road.

Old Sarum was originally an Iron Age hill fort strategically placed on the conjunction of two land trade routes and the River Avon. The hill fort is broadly oval shaped, measuring 400 metres (1,300 ft) in length and 360 metres (1,180 ft) in width; it consists of a double bank and intermediate ditch with an entrance on the eastern side. The site was used by the Romans, becoming the town of Sorviodunum.

The Saxons used the site as a stronghold against marauding Vikings, and the Normans built a stone curtain wall around the Iron Age perimeter and a centrally placed castle on a motte protected by a deep dry moat.
It came with modern features
A royal palace was built within the castle for King Henry I and subsequently used by Plantagenet monarchs.
A Norman cathedral and bishop's residence were built at the western end of the town.



In 1219, the cathedral was demolished in favour of the new one built near the river and the townspeople moved down to the new city, then called New Salisbury or New Sarum.
The castle fell out of use and was sold for materials by King Henry VIII.

By the 19th century, the settlement was officially uninhabited and yet still had formal parliamentary representation, making it the most notorious of the rotten boroughs that existed before the Reform Act 1832.
It is now (2014) an English Heritage property and open to the public.
Family

By his wife Ela, Countess of Salisbury, he had four sons and six daughters:[5]

William II Longespée (1212?–1250), who was sometimes called Earl of Salisbury but never legally bore the title because he died before his mother, Countess Ela, who held the earldom until her death in 1261. (He issued the charter for the town of Poole and married Idion de Camville
Stephen (d. 1260), who was seneschal of Gascony and married Emeline de Ridelsford, widow of Hugh de Lacy, 1st Earl of Ulster.

Our lineage
Their two daughters were
Eleanor Longspee
, who married Sir Roger La Zouche and Emeline Longspee, who married
Sir Maurice FitzMaurice
, Justiciar of Ireland.
Nicholas (d. 1297), bishop of Salisbury.
Isabella Longespée, who married Sir William de Vesci.
Ela Longespée, who first married James de Audley and William de Odingsells (and perhaps Thomas de Beaumont, 6th Earl of Warwick, and Philip Basset).
Ida Longespée, married firstly Ralph who was son of Ralph de Somery, Baron of Dudley, and Margaret, daughter of John Marshal; she married secondly William de Beauchamp, Baron of Bedford, by whom she had six children, including Maud de Beauchamp, wife of Roger de Mowbray.
Ida II de Longespée married Sir Walter FitzRobert, son of Robert Fitzwalter,
Mary Longespée, married. Robert de Ros

Pernel Longespée.









Ela held the post of High Sheriff of Wiltshire for two years after William's death, then became a nun, and eventually Abbess of Lacock Abbey in Wiltshire which she had founded in 1229.

Ela was born in Amesbury, Wiltshire in 1187, the only child and heiress of William FitzPatrick, 2nd Earl of Salisbury, Sheriff of Wiltshire and Eléonore de Vitré (c.1164- 1232/1233).





Her mother was the daughter of Robert III de Vitre of Brittany in France and his wife Emma de Dinan.



Her father was
William of Salisbury, 2nd Earl of Salisbury (died 1196) was an Anglo-Norman peer. Though he is generally known as such, his proper title was Earl of Wiltshire, which title was conferred on his father by the Empress Maud around 1143.
He was also called William FitzPatrick. (No relation to the Irish medieval dynasts who bore the surname "Fitzpatrick", which itself is a later anglicization of the Irish "Mac Giolla Phádraig".)
He was the son and heir of Patrick of Salisbury, Earl of Wiltshire, styled Earl of Salisbury, and of Ela Talvas.
He married Eléonore, daughter of Robert III de Vitré of Tilliers. He died without male issue in 1196.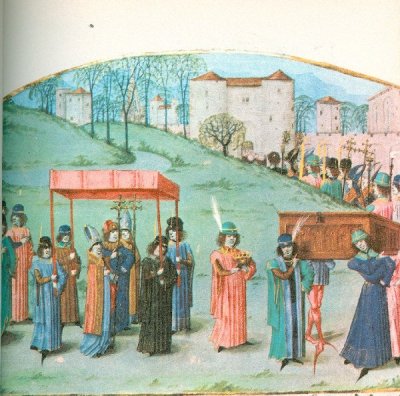 Their only daughter and heiress, was
Ela of Salisbury, 3rd Countess of Salisbury
who married
William Longespée, 3rd Earl of Salisbury
, who was half-brother to the king.


William bore the golden sceptre at the coronation of King
Richard I
, but the next year when the king became a prisoner in Almaine, he was one of those who adhered to the then Count of Mortain, who later became King
John of England
. In 1194 he served as
High Sheriff of Somerset
and
Dorset
. In 1195, William was back with King Richard in the expedition into Normandy and u
pon his return to England was one of Richard's great council assembled at Nottingham.
The Earl of Salisbury was one of the four earls who supported the canopy of state at the second coronation of Richard that same year



In 1196, Ela succeeded her father as suo jure 3rd Countess of Salisbury. There is a story that immediately following her father's death she was imprisoned in a castle in Normandy by one of her paternal uncles who wished to take her title and enormous wealth for himself.

According to the legend, Ela was eventually rescued by William Talbot, a knight who had gone to France where he sang ballads under windows in all the castles of Normandy until he received a response from Ela.

In 1198, Ela's mother married her fourth husband, Gilbert de Malesmains.



Marriage and issue



In 1196, the same year she became countess and inherited her father's numerous estates, Ela married William Longespée, an illegitimate son of King Henry II of England, by his mistress Ida de Tosny, who later married Roger Bigod, 2nd Earl of Norfolk. Longespee became 3rd Earl of Salisbury by right of his wife. The Continuator of Florence recorded that their marriage had been arranged by King Richard I of England, who was William's legitimate half-brother.


A terracotta statue of William Longespée, dating from 1756, is located in the Great Hall of Lacock Abbey in Lacock, Wiltshire, England. A likeness of his wife Ela is also on display, while several other statues are believed to show their children.

Lacock Abbey, dedicated to St Mary and St Bernard, was founded in 1229 by the widowed Lady Ela the Countess of Salisbury, who laid the abbey's first stone 16 April 1232, in the reign of
King Henry III
, and to which she retired in 1238.
Her late husband had been
William Longespee
, an illegitimate son of
King Henry II
. The abbey was founded in Snail's Meadow, near the village of Lacock.
The first of the nuns were veiled in 1232.
Generally, Lacock Abbey prospered throughout the Middle Ages. The rich farmlands which it had received from Ela ensured it a sizeable income from wool.

Following the Dissolution of the Monasteries in the mid-16th century, Henry VIII of England sold it to Sir William Sharington, who converted it into a house starting in 1539, demolishing the abbey church. Few other alterations were made to the monastic buildings themselves: the cloisters, for example, still stand below the living accommodation

About 1550 Sir William added an octagonal tower containing two small chambers, one above the other; the lower one was reached through the main rooms, and was for storing and viewing his treasures; the upper one, for banqueting, only accessible by a walk across the leads of the roof. In each is a central octagonal stone table carved with up-to-date Renaissance ornament. A mid-16th century stone conduit house stands over the spring from which water was conducted to the house.

Further additions were made over the centuries, and the house now has various grand reception rooms.
The house has been used in films including Harry Potter

Ela's Tomb




We spent some time in Salisbury to follow in William's footsteps, and it was quite an amazing experience to stand at his tomb.

Salisbury is very close to Durnford!