Henry
FitzHenry
(born c
. 1103, died 1158) was an illegitimate son of
Henry I of England
by
Nest
, daughter of
Rhys ap Tewdwr
, last king of Deheubarth (d. 1093), and his wife, Gwladys ferch Rhiwallon ap Cynfyn.
He was son of Henry I by his highest-born Mistress, Nest, daughter of Rhys ap Tudor, Prince of Deheubarth, born while she was married to Gerald fitz Walter, but raised with the rest of her children. He held lands in Narberth and Pebidiog at South Wales.

He was born in 1099 At Deheubarth, Wales.He was the son of Henri I "Beauclerc", roi d' Angleterre and Nesta verch Rhys

o Deheubarth

.
Dinefwr Castle stands on a ridge on the north bank of the River Towy in Carmarthenshire, Wales. Dinefwr was the chief seat of the Principality of Deheubarth.

It is said that the first castle on this site was built by Rhodri the Great, and the castle later became the chief seat of Hywel Dda, first ruler of Deheubarth and later "king of the Britons" and king of most of Wales. Rhys ap Gruffydd (The Lord Rhys) ruler of Deheubarth from 1155 to 1197 is thought to have rebuilt the castle, along with the spectacular castle at Carreg Cennen, just four miles away to the south.




Henry fitz Roy de Normandie died in 1157 at age 58 years. He was slain during Henry II's invasion of Anglesey.
Henry fitz Roy

de Normandie

was credited with three children. Many researchers agree that her name was Lady Alice Fitz Walcher.

The children were:
Meiler FitzHenry,

Meilyr FitzHenry was the son of Henry FitzHenry, an illegitimate son of King Henry I, by Nest, daughter of Rhys ap Tewdwr, the last king of Deheubarth (South Wales).

He was thus related to the noblest Norman and native families of South Wales. Robert Fitz-Stephen, Maurice FitzGerald, David FitzGerald, bishop of St. David's, and William FitzGerald of Carew were his uncles. Meilyr's cousins included Raymond le Gros, Gerald of Wales, prince Rhys ap Gruffydd, the famous Lord Rhys, and Henry II.
In 1158 his father, Henry FitzHenry, was killed in battle during Henry II's campaign in Wales. Meilyr, Henry's oldest son, succeeded to his father's possessions of Narberth and Pebidiog, the central and north-eastern parts of the modern Pembrokeshire.
By the niece of Hugh de Lacy, Meilyr fathered a son, also named Meilyr, who in 1206 was old enough to dispossess William de Braose of Limerick, and whose forays into Tyrconnell had already spread devastation among the Irish.
Robert Fitzhenry, had died around 1180. Robert b 1120 in Wales d 1180,married Emma Ailward

Amabilis Amabilis FitzHenry was born About 1140 Amabilis married Walter de Riddlesford

our lineage
But who was Lady Alice Walcher?.
Research indicates that she was the daughter of William Walcher the Bishop of Durham. Now a Bishop with a child might be quite possible, but he died at least 35 years before she was born.
Other indicate that she was his niece and heiress, but I am not so sure. In fact researching her has raised many questions and possibilities as to who she really was.
She did marry again to

Dolfin

fitz

Uchtred

,

Lord of Raby

was born circa 1110 at Raby, County Durham, England.
He is the son of

Uchtred

fitz

Maldred

.He married

Alice
Raby Castle from the south beautiful surroundings but built by one of our other ancestors the Neville family
He gained the title of Lord of Raby, co. Durham [Feudal]. Before 1131 he is recorded as reserving his homage to both the Kings of England and Scotland, when he was granted all of Staindrop and Staindropshire (later incorporated into co. Durham), including the township of Raby, by the Prior of Durham.
A beautiful part of the country to visit as we found when we were there
.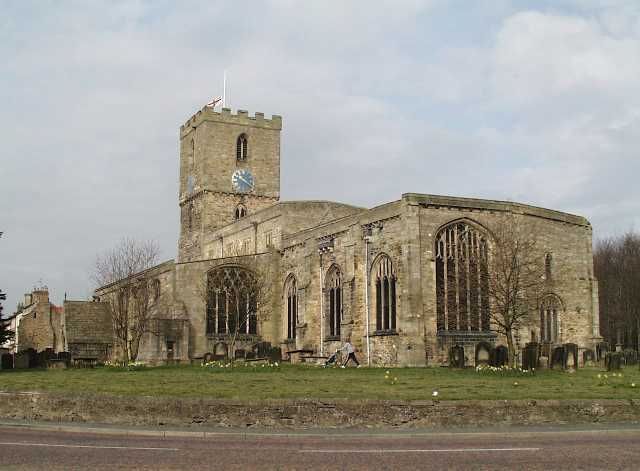 Built for the mighty dynasty of the Nevills, this great fortress stands proud and defiant, its history rolling back almost a thousand years.
King Cnut (also known as Canute II the Great) owned the Estate, then known as 'Rabi' (derived from 'Ra', Danish for a boundary, and 'Bi', a settlement or dwelling) in the early 11th Century.
The Viking King and self appointed 'Emperor of the North' may well have built a manor house here, but it was the Nevills who built the 14th century castle which still stands today.
There seems to be many researchers who consider that William Walcher was her father.
I disagree
Let's take a look at Bish Walcher
Bishop Walcher: The First Prince Bishop

William Walcher, who became Bishop of Durham in 1071 and held the position until his death in 1080, was the first Durham Bishop to hold secular powers. He was also the first non-English Bishop of Durham. He was born in Liege, in what is today Belgium.

Walcher acquired his secular status by purchasing the earldom of Northumbria from William the Conqueror in 1076 after the previous earl, Waltheof, rebelled against the king and was executed.
(So we know he was involved with King William)

With the purchase of the earldom, Walcher was known by the title of Prince-Bishop, one that was used by his successors until the 19th century.

Despite his importance in the creation of Durham as a Prince Bishopric, Walcher was a weak leader. In 1079 he was unable to prevent a Scottish invasion, which led to extensive plundering, causing tremendous damage. Subsequently, the Bishop's supporters fought amongst themselves, and one of them, Ligulf, who had important links to the local aristocracy, was brutally killed, along with members of his household.

The result was that the Northumbrian people rose up against Walcher and killed him.

This in turn led William to send an army to control Northumbria. Much brutality followed, reminiscent of William's Harrying of the North a decade earlier. Walcher was a saintly man but an incompetent leader. According to Symeon of Durham, Walcher's household knights were allowed to plunder and occasionally kill natives without punishment.

Walcher was considered a well-educated bishop, and had a reputation as a pious man. Symeon of Durham portrayed him as an honest, upright man who diligently performed his episcopal duties.Walcher's successor as Earl of Northumbria was Aubrey de Coucy. William of Saint Carilef was the next prince-bishop, though not earl.

In his book "Northumbria at War"

By Derek Dodds William was a clerk in Lorraine France before being appointed as the Bishop others mention he was priest.

William Walcher (or just Walcher, sometimes Walchere or Walker; died 14 May 1080) was the bishop of Durham from 1071, a Lotharingian, the first non-Englishman to hold that see and an appointee of William the Conqueror following the Harrying of the North.

He was murdered in 1080, which led William to send an army into Northumbria to harry the region again.


SO

he could not be the father of our great grandmother. To try to sort through this puzzle I decided to research his family, and to my surpise one of his great nieces is none other than Adeliza of Louvain born 1103 died 1151 and who just happened to be the wife of ---- King Henry I.

William Walcher family
Lambert III Baldric Comte de Louvain was born 995 and died 1062. He married Ode of Lorraine. (same place as William lived) they had a few childen including Henry II Count de Lorraine de Louvain, Adelaid de Lorraine, Willliam (Guilliame) of Lorraine, Ode de Lorraine.
Now was our William their child or was he a son by a mistress?
As William was born in 1035, it is possible that he is the son of Lambert III Comte de Louvan
Henry II who married Adele de Bethume and their son
was Godfrey I (The Bearded Duke) de Lorraine.
He is the father of Adeliza of Louvain who just happened to marry King Henry I


That raised the question is Adeliza related to Alice? Could be because often Alice was a deritive of another name and Alice was born around the same time as Adeliza. Could they be sisters?

The chroniclers say that Adeliza was beautiful. She was known as 'The Fair Maid of Brabant' She was descended from Charlemagne, and an alliance with her father's house also helped to strengthen Henry I's ties and policies with Germany. By early January 1121, Adeliza was on her way to England and a new life as its queen.

Could that be how Alice met up with Henry FitzHenry? Afterall King Henry I had about 28 children so it must have been a bit difficult keeping up with them all.

And not only that it is likely that King Henry VI would have granted permission for his son to marry a commoner.



Henry had a considerable sexual appetite and enjoyed a substantial number of sexual partners, resulting in a large number of illegitimate children, at least nine sons and 13 daughters, many of whom he appears to have recognised and supported.



It was normal for unmarried Anglo-Norman noblemen to have sexual relations with prostitutes and local women, and kings were also expected to have mistresses.Some of these relationships occurred before Henry was married, but many others took place after his marriage to Matilda.]Henry had a wide range of mistresses from a range of backgrounds, and the relationships appear to have been conducted relatively openly.







Adeliza de Louvain was born circa 1103 at Louvain, Belgium.2,3 She was the daughter of Godefroi I de Louvain, Duc de Basse-Lorraine and Ida de Namur, Comtesse de Namur.


Godfrey was the son of Henry II (c. 1020-1078) and Adela of Orthen (or Betuwe), a daughter of Count Everard of Orthen. He succeeded his brother Henry III who died wounded in a tournament in 1095, and only had small daughters. His widow Gertrude married Theodoric II, Duke of (upper) Lorraine.

He first came into conflict with Otbert, Bishop of Liège, over the county of Brunengeruz that both claimed. In 1099, Emperor Henry IV allotted the county to the bishop, who entrusted it to Albert III, Count of Namur. Godfrey arbitrated a dispute between Henry III of Luxembourg and Arnold I, Count of Loon, over the appointment of the abbot of Sint-Truiden.

Godfrey was in favour with the emperor and defended his interests in Lorraine. In 1102, he stopped Robert II of Flanders "the Crusader", who was invading the Cambraisis. After the death of the emperor in 1106, his son and successor, Henry V, who had been in rebellion, decided to avenge himself on his father's partisans. Duke Henry of Lower Lorraine was imprisoned and his duchy confiscated and given to Godfrey. After Henry escaped from prison, he tried to retake his duchy and captured Aachen, but ultimately failed.

In 1114, during a rift between the emperor and Pope Paschal II, Godfrey led a revolt in Germany. In 1118, the emperor and the duke were reconciled. In 1119, Baldwin VII of Flanders died heirless and Flanders was contested between several claimants, one of whom, William of Ypres, had married a niece of Godfrey's second wife. Godfrey supported William, but could not enforce his claim against that of Charles the Good. Also dead in that year was Otbert. Two separate men were elected to replace him and Godfrey again sided with the loser.

By marrying his daughter Adeliza to Henry I of England, who was also the father-in-law of the emperor, he greatly increased his prestige. However, Henry V died in 1125 and Godfrey supported Conrad of Hohenstaufen, the duke of Franconia, against Lothair of Supplinburg. Lothair was elected. Lothair withdrew the duchy of Lower Lorraine and granted it to Waleran of Limburg (c. 1085 - 1139), the son of Henry, whom Henry V had deprived in 1106.

Nonetheless, Godfrey maintained the margraviate of Antwerp and retained the ducal title (which would in 1183 become Duke of Brabant).

After the assassination of Charles the Good in 1127, the Flemish succession was again in dispute. William Clito prevailed, but was soon fraught with revolts. Godfrey intervened on behalf of Theodoric of Alsace, who prevailed against Clito. Godfrey continued to war against Liège and Namur.


Godfrey spent his last years in the abbey of Affligem. He died of old age on 25 January 1139 and was buried in the left aisle of the abbey church.

He married Ida of Namur (Chiny) (nl) (1078 - 1117), daughter of Otto II of Namur, Count of Chiny (nl) (c. 1065 - a. 1131) and Adelaide of Namur, (House of Chiny (de)).



They had several children:



Adeliza of Louvain (b. 1103 – d. abbey of Affligem, 23 April 1151) married Henry I, King of England and later William d'Aubigny, 1st Earl of Arundel (1109 – before 1151).
Godfrey II of Louvain (b. 1107 – d. 13 June 1142), Duke of Lower Lotharingia (Lower Lorraine), Landgrave of Brabant, Count of Brussels and Louvain. He married Lutgardis of Sulzbach (d.a. 1163), daughter of Berenger I of Sulzbach.

Clarissa (d. 1140).

Henry (d. in the abbey of Affligem, 1141), monk.
Ida (d. 1162) married to Arnold II, count of Cleves (d. 1147).
He had a son Joscelin of Louvain who may have been from one of his mistresses. could he have also had our Alice?



She married, firstly, Henry I 'Beauclerc', King of England, son of William I 'the Conqueror', King of England and Matilda de Flandre, on 29 January 1121 at Windsor Castle, Windsor, Berkshire, England.

They had no children.

She married, secondly, William d'Aubigny, 1st Earl of Arundel, son of William d'Aubigny and Maud le Bigod, in 1138.2,3

She died circa 23 April 1151 at Affligem Abbey, Afflingham, Flanders, Belgium. She was buried at Afflingham, Flanders, Belgium.

From 30 January 1121, her married name became Queen Consort Adeliza of England.2 As a result of her marriage, Adeliza de Louvain was styled as Queen Dowager of England on 1 December 1135. She was a nun in 1150 at Affligem Abbey, Afflingham, Flanders, Belgium.

She has an extensive biographical entry in the Dictionary of National Biography

Children of Adeliza de Louvain and William d'Aubigny, 1st Earl of Arundel


1. William d'Aubigny 2nd Earl of Arundel
1. Reynor d'Aubigny1
2. Henry d'Aubigny1
3. Geoffrey d'Aubigny1
4. Alice d'Aubigny+1 d. 11 Sep 1188
5. Olivia d'Aubigny1
6. Agatha d'Aubigny1 7. William d'Aubigny, 2nd Earl of Arundel+3 b. b 1150, d. 24 Dec 1193


Citations1. [S106] Royal Genealogies Website (ROYAL92.GED), online ftp://ftp.cac.psu.edu/genealogy/public_html/royal/index.html. Hereinafter cited as Royal Genealogies Website.
2. [S11] Alison Weir, Britain's Royal Family: A Complete Genealogy (London, U.K.: The Bodley Head, 1999), page 48. Hereinafter cited as Britain's Royal Family.
3. [S6] G.E. Cokayne; with Vicary Gibbs, H.A. Doubleday, Geoffrey H. White, Duncan Warrand and Lord Howard de Walden, editors, The Complete Peerage of England, Scotland, Ireland, Great Britain and the United Kingdom, Extant, Extinct or Dormant, new ed., 13 volumes in 14 (1910-1959; reprint in 6 volumes, Gloucester, U.K.: Alan Sutton Publishing, 2000), volume I, page 233. Hereinafter cited as The Complete Peerage.
4. [S11] Alison Weir, Britain's Royal Family, page 47. 5. [S18] Matthew H.C.G., editor, Dictionary of National Biography on CD-ROM (Oxford, U.K.: Oxford University Press, 1995), reference "Adeliza of Louvain, -1151". Hereinafter cited as Dictionary of National Biography.

One of Adeliza's brothers, Jocelin, came to England and married Agnes de Percy, heiress of the Percy family. Their children took their mother's name, and their descendants include the medieval Earls of Northumberland. The title of Earl of Northumberland was created several times in the Peerages of England and Great Britain. ..

Although it is clear that the former queen and Joscelin were very close, he may actually have been an illegitimate son of Adeliza's father and thus her half-brother. His children took their name from their mother's lineage, and their descendants include the medieval Earls of Northumberland.


Amabilis (Amabel) was the daughter of Prince Henry Fitz Roy and Lady Alice Fitz Walcher. b.1104 supposed, niece and heiress of Walcher Bishop of Durham married Dolphin Lord of Raby.
This might just be one of those mysteries of life!
However while her ancestors cannot be proven, her descendants can.